Laser show for corporate party
Laser shows emerged in the 1970-s and were used mainly during rock concerts. Laser shows gained fame thanks to Pink Floyd band, who used them regularly during their performances.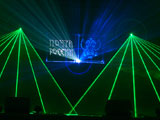 Today the sphere of laser shows appliance has broaden dramatically. Nowadays concerts are far from being the most popular events to use this spectacular performance type. Modern laser shows are more and more often used during the wedding celebrations, city festivities, school graduation parties and birthdays.
Laser show for corporate event is becoming more popular as well. A large-scaled spectacular entertainment during a corporate party is a sort of a marker of a prestigious company, organizing a laser show for its employees.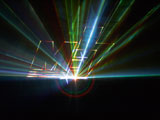 Corporate events may be held both inside and open-air. Each variant gives to a laser show organizer certain opportunities. During an open-air party there are conditions for a large-scaled laser performance using natural phenomena (snow, rain, fog etc.). If there is a reservoir near the corporate party setting, the guests may be amazed by an unforgettable laser show on water surface.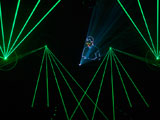 If the corporate event is held inside the building, the advantage of the show may include a full-fledged performance plot using various heroes. Moreover, a special taste may be given to a corporate party if various symbols of a customer company are used during the laser entertainment. There is also technology allowing to create an effect of an image hung in the air which produces a very strong impression on the spectators.
Laser show is an excellent way to make your event more colorful and unforgettable and your publicity more attractive and productive.