Laser Man Show in Moscow
What associations does the notion of laser show awoke in you? Some performance, faerie, something interesting and captivating? No matter what understanding you have, the grandiose Laser Man Show includes all these associations. From the first sight, Laser Man Show is just a show with lasers, but actually it is much more.
Since its emergence Laser Man Show has gained a few awards, including the first prize at "ILDA Award for Special Applications at the International Laser Display Association conference in Brussels" which is the analogue of Oscar in the sphere of Lasers.
You have hardly ever seen this kind of performance yet. And when you see it, you will never forget it and for sure will not stay untouched. It is a captivating, absolutely unique in its beauty show. It is not only the dance of lasers and various illumination in the way it usually happens, that you are going to see, - you will witness a peculiar scene of a man conquering laser. The first hand movement makes the rays to accelerate their race, interlacing with one another forming three-dimensional figures. After the second movement the laser fully hides the man under the instantly formed shimmering dome. It is a captivating, absolutely unique for its beauty and incredibility performance, which absorbs spectators' attention till the end of the show.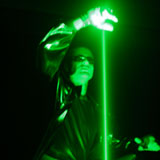 Nowadays there are three options to organize this show:
simple fulfillment of the trick.
execution of the trick with logo texting.
integration of the trick into the laser show with animation.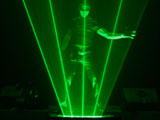 You may order this trick for an important celebration, as a decoration for a party or as a present. Laser Man Show will assure an unforgettable performance.
Look and be amazed with laser being conquered by a man's hand movement.